GHOSTWRITING, BRANDING CONTENT, BOOKS, MEMOIRS, PRESS RELEASES, BIOS, BLOGS, WEB SITE CONTENT AND MORE!
WRITER FOR HIRE® PAT KRAMER
Writing business branding content that is uniquely customized to each client and each company's needs, Writer Pat Kramer delivers just what you have been waiting for! Don't settle for sub-par writing. Hire a professional whose job is to make you look good!
Do your business materials create a tone of professionalism and credibility? Want to look as amazing as you are?  Need more sizzle?
Then you need to contact Writer For Hire®.
CONTENT THAT IS PROFESSIONALLY - WRITTEN, UNIQUE, AND DELIVERED ON-TIME BECAUSE YOU NEVER GET A SECOND CHANCE TO MAKE A FIRST IMPRESSION.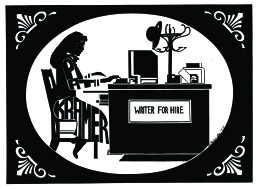 She was quick to respond to my needs, creating a great LinkedIn profile to help me in my work."
Nicole E., Healthcare Professional
who I hired to write my professional bio. She absolutely exceeded my expectations!"
Stella G., Commercial Real Estate Broker
"Thank you, Pat!
I really appreciate your awesome service and professionalism. My husband and I greatly enjoyed your hospitality!"
Celeste S., Contractor
of hiring Pat to create new content for my website. She is a easy to work with and an experienced talented writer. I highly recommend her!"
Lynn B., CFO
"Pat did great work for our not-for-profit.
I highly recommend her. Her professionalism, talent and creativity are awesome."
R G., Culver City, CA
"Pat Kramer, Writer For Hire,
did an amazing job writing a memoir for my mother. This has been such a fascinating,
healing and uniting gift for my entire family!"
Laine P., The QuickBooks Doctor .
WRITING SERVICES
Over 30+ Years of Expertise as a Journalist, Public Relations & Ad Agency Writer, News Broadcaster and Writer For Hire® for Business Professionals and Companies
An Award–Winning Writer Known
for Exceeding Clients' Expectations
If you are reading this now,
Then it is Time to Get Started!