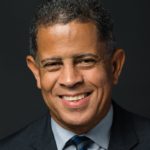 Glendale, CA (August 7, 2019) – Robert Schacht, chairman of The Campbell Center, today announced the appointment of David R. Fields as the non-profit's executive director as they seek to renew and expand their workplace programs in the tri-city area of Glendale, Burbank and Pasadena. This comes at a time when The Campbell Center faces new regulatory changes as it partners with adults who have intellectual and developmental disabilities, empowering them to successfully gain independence through opportunities in the workplace.
Mr. Schacht states, "In his role as executive director, Mr. Fields will be leading our organization into the future by integrating our work activity program into community-based, integrated activities and 'employment first' services. In light of the regulatory changes at the state and federal level, we will no longer operate a work activity program on site, but rather, will focus our energies on successful community integration, including job placement for all our clients. In bringing David on board, our effort will be to identify and develop the individual skills and passions of our clients and find creative ways to integrate them into the broader community, working side-by-side with the rest of the workforce."
He adds, "David is a compassionate and innovative leader who brings a plethora of experience in both the for-profit and non-profit world. As we utilize David's experience to build efficiencies that allow us to leverage services for our clients, we anticipate hiring more staff from the communities we serve. We're excited about this opportunity to navigate a new path forward as we deliver "Best in Class" services to our clients, customers and employees."
Mr. Fields has a long history of managing companies and non-profits to higher levels of profitability and efficiency in the areas of effective strategic plan development and implementation, with a vision for the future. His work demonstrates high-quality customer service with caring attention to the needs of the disadvantaged, homeless, and poverty-stricken. This comes from 28 years of experience at for-profit, and nine years in non-profit domains. Overall, he brings an unwavering attention to compliance protocols, adhering to local, state, and federal regulations, board of director mandates, reporting requirements, contracts, and budgetary restrictions.
Prior to joining The Campbell Center, Fields served as executive director for The Society of St. Vincent de Paul in Los Angeles where he managed an $11 million budget and supervised 100 paid staff. In addition to improving their branding efforts and promoting donor and customer involvement, his efforts led to increased revenue, which in turn, allowed for free distribution of merchandise for the poor, and job creation for the working poor. Over 200,000 families and individuals benefited from rental and utility assistance, food, furniture, clothing and other resources in Los Angeles, Ventura and Santa Barbara Counties while 1,200 underserved children had their lives transformed by The Society's Circle V Ranch Camp and Retreat Center. He also was responsible for the Cardinal Manning Center transitional housing program on L.A.' Skid Row.
With his stellar track record, Schacht anticipates great things to come from Fields' leadership as The Campbell Center begins a new era in its 65-year history.
Founded in 1954 by Phyllis & Jerry Campbell, originally as The Glendale Association for the Retarded Children, The Campbell Center now serves 78 intellectually and developmentally disabled adults out of its Glendale center with nine programs operating for clients in the Glendale, Burbank, and Pasadena area. Of that population, 44% are Armenian immigrants from Armenia, Lebanon, Syria, Iran, and Iraq. The Campbell Center holds membership in the California Disability Services Association (CDSA) and is fully accredited by the Commission on Accreditation of Rehabilitation Facilities (CARF).
Media Inquiries: Please contact Claudia Sandoval
[email protected] or call: (818) 242-2434