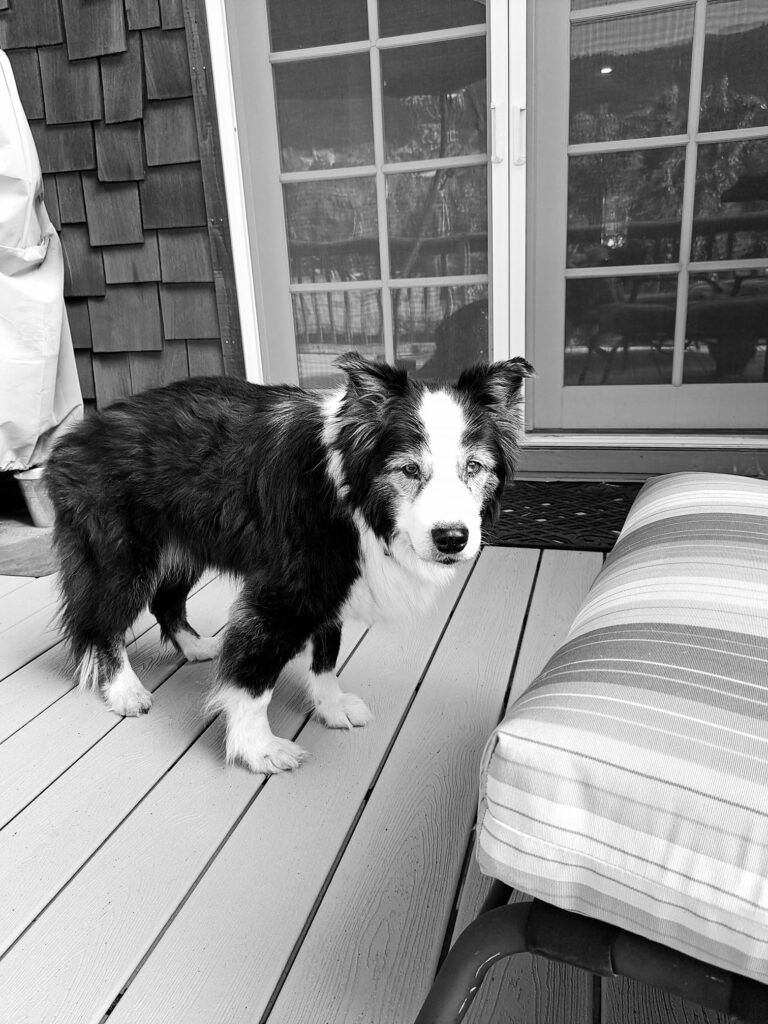 I heard about an aging Border Collie named Blue from a friend on Facebook in April 2021. My friend was renting space on a ranch in Banning, California for her mobile home and horses and Blue was the pet of the recently deceased ranch owner. He was always at her heels and went everywhere she went.
After the woman died in 2020, Roseann noticed that Blue was now living outside in the front yard of the ranch where he had apparently been living for several months in winter weather conditions. She was surprised to see this as Blue had always been an indoor dog and one who had been cared for and loved. However, since the owner's daughter got out of jail and became the caretaker of the ranch, changes were being made, left and right, that didn't necessarily benefit the tenants.
When Roseann posted that an older dog was living outside and needed a warm bed to sleep in, I immediately contacted her. I had lost Mo, my Golden Retriever/Chow mix, just a few months earlier and I missed that "old man." Mo had been with me since he was about two years old when I found him at the East Valley Animal Shelter in Los Angeles and brought him home as a companion to Lily, my Labrador Retriever mix.
Anyway, Roseann did not know much about Blue, other than that he was an older dog, a Border Collie, and living outside. She also told me that everyone was going to be evicted soon as the bank was foreclosing on the ranch and she feared that Blue would be euthanized.
I asked for the phone number for the daughter of the ranch owner and I called Heather to speak with her about Blue. Heather said that she couldn't take care of Blue anymore and that he was "old" and why would I want him?
I told her that it didn't matter to me that he was old – he was in need of a home and he deserved to be cared for. After that conversation, I decided I needed to see Blue for myself.
Banning was 100 miles away from where I lived in Los Angeles but I was determined to help him. So, I drove out there, met Roseann, and together we approached the ranch house not knowing what we would find when we got there.
As soon as I saw Blue, I could tell he was in bad shape. He was shaky on his little feet, all matted and filthy. He didn't seem to be able to focus his eyes and he paid me no attention at all. I was somewhat disappointed but I decided to move forward with my plan to see if my vet and I could help him.
With Heather's permission, I loaded him into my car. Heather threw in a dog bed, a bag of cheap dog food and a leash but couldn't produce his vet records, so I was in a state of total blindness in regards to Blue's actual age and physical condition. Then I drove him home and made an appointment for his physical with my vet.
My vet looked him over and then looked at me and said, "Pat, I don't know if you're going to be able to handle this. He has a lot of serious problems."
Indeed, from the looks of it, Blue had been neglected for a very long time. He had an anal protrusion which looked like a large tumor, he had a spinal compression that was putting him in chronic pain, and he was having digestive problems from eating horrible dog and cat food. In addition to that, he was filthy with caked on poo-poo around his rear end, fur that was matted in knots all around his body, and he had several infected teeth.
No wonder the little guy couldn't stand on his feet or focus his eyes!
I had my vet pull the teeth, give him some antibiotics and then put him on a strict dietary regimen to get him healthy and stable. He also got pain meds for the chronic pain and a bath to shampoo his fur and cut away the mats. Then he started sleeping indoors in a clean dog bed with a warm, soft blanket.
Blue quickly turned around and in a short time, he was skipping up and down a few steps into and out of my home. My roommate, a carpenter, built him a handicap ramp so he could navigate the back stairs more easily. Then, he added siding and a handrail because Blue jumped (or fell) off the side into my garden.
Blue was a little character. He reminded me of Mr. Magoo – always getting in near disasters that I had to rescue him from! He fell into the kiddie pool once and couldn't get out, he fell into my garden twice and I had to fish him out, and he would try to jump off the landing of my front stairs instead of going down each step, one at a time.
But Blue was a smiler and he began showing me that he was enjoying life! He smiled a lot and then he started giving me little kisses. He slept in my bedroom with my two other dogs and although he wanted to be up on the bed with us, I had to keep him on the floor because he had accidents pretty often. Incontinence was a frequent problem.
Still, regardless of the amount of work it took to keep Blue clean and healthy, he wove his way into our hearts and up until the time that he couldn't use his legs anymore, he became the "sweetheart" of our home.
Blue was a wonderful pet. He graduated from being a ranch dog to being a pet and a companion and he got to enjoy the last year of his life with dignity, surrounded with love.
Blue left us in February 2022 and his loss left a Border Collie – sized hole in our hearts.