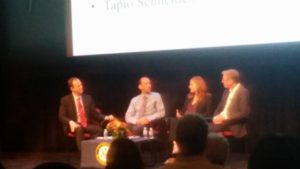 By Pat Kramer
Congressman Adam Schiff addressed a full house at Cal Tech's Beckman Auditorium on Friday, April 21, 2017 to speak about Climate Change. The U.S. Representative is a strong environmental proponent and, as such, is working hard to hold the line on the divisive comments about climate change and global warming by the current administration.
Speaking about their research on that subject were Alex Hall, Ph.D. – Professor of UCLA's Department of Atmospheric & Oceanic Sciences; Francesca Hopkins, Ph.D., Assistant Professor of Climate Change & Sustainability at the University of California, Riverside's Department of E Sciences; and Tapio Schneider, Ph.D., professor of Environmental Science and Engineering at California Institute of Technology. Each responded to questions posed by audience members, which included scientists, environmentalists, and students interested in the future of our state.
The Congressman stated that we have taken steps backwards in our former progress on Climate Change with cuts by the current administration to Clean Energy programs and research. Professor Hall pointed out that if things keep going as they have, by the middle of this century the number of "extreme heat" days (95 degrees and over) will increase from 50-55 days at present to possibly 100 days per year. That would then impact our water resources, the sustainability of our water supply, and could lead to rising sea levels and more wildfires.
If, however, steps can be taken to reduce carbon emissions, the scientists agreed that our climate will stabilize.
Congressman Adam Schiff is the U.S. Representative for California's 28th District. He's been a member of Congress since 2001. You can contact his Burbank office at: (818) 450-2900 or go to: http://schiff.house.gov.