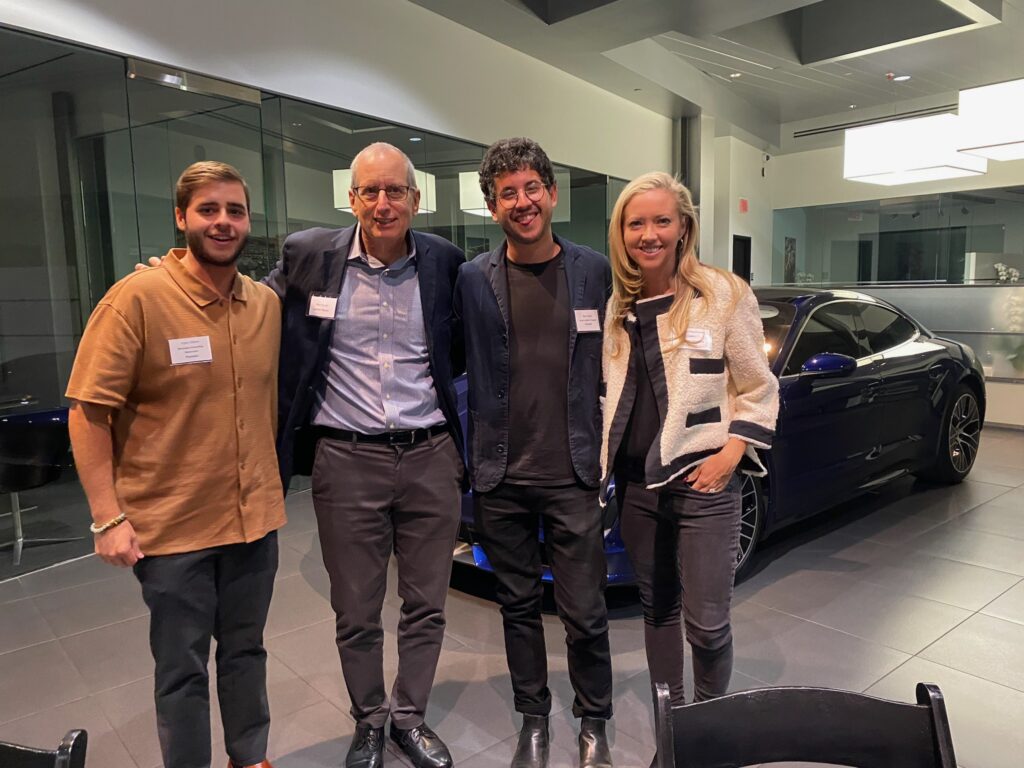 California Bank and Trust and NxtGen Nexus held its "Driving the Family Business Future" event at Beverly Hills Porsche on November 2. 2023. The enthusiastic NxtGen crowd had the opportunity to take test drives; enjoy food and drinks (only after the test drives); to share their stories with others; and to listen to our panel of three exceptional NexGen speakers talk about their experiences in their family businesses.
BEVERLY HILLS PORSCHE
Every aspect of the event was designed to target the needs and interests of family business NxtGens, starting with the choice of Beverly Hills Porsche as the venue. NxtGen attendees entered the striking two-story glass and metal building and were immediately greeted by members of Beverly Hills Porsche, California Bank & Trust, and NxtGen Nexus. NxtGens who signed up for the test drive lined up downstairs for their test drive while other attendees ascended the dramatic circular staircase to attend the networking event on the second floor.
This was the inaugural in-person SoCal gathering for NxtGen Nexus so none of the participants knew each other. The test drives provided a wonderful starting point for NxtGens to meet each other and the hosts and they gave rave reports about their test drives on the high-end Porsches they drove. Many NxtGens said they were equally impressed that they only had to provide their name to the attentive Beverly Hills Porsche staff before being handed the keys to a car.
NETWORKING
The networking event was held on the Beverly Hills Porsche dealership's second floor. While most of cars were removed for the event, a bright red Porsche tractor was positioned prominently in the middle of the floor. The tractor was a great mystery to the attendees and served as an icebreaker for a number of conversations.
As conversations sparked, a never-ending array of appetizers were served, as well as beer and wine at the bar. The conversations gave each attendee an opportunity to talk about what was important to them in their family business and to discuss their needs with the hosts and especially, to meet the three panelists.
FAMILY BUSINESS STORIES
Allan Dietrich, Senior Vice President at California Bank & Trust, welcomed the crowd and quickly discussed the bank's dedication to family businesses. He referenced Harris Simmons, chairman of Zions Bancorp, which is the principal entity for CB & T and each of the other nine banks in the western state's footprint, and paraphrased his quote about family business, "I'd like our banks to be recognized for their desire to be supportive of the family business. A large percentage of the thousands of business clients we serve across this landscape are family businesses. It's for these reasons that CB & T is excited to be participating in this worthwhile event."
NxtGen Nexus Founder Allen Esrock then shared his vision for NxtGen Nexus, which is a local/global community for the next generation of family business owners. Esrock compared family businesses to a tribe because despite the differences in race, religion, ethnicity and location, the commonality of family business stories, issues, and love for the business, is the same all around the world.
He also announced that NxtGen Nexus is working with Loyola Marymount University – Family Business Entrepreneurship Program and California State University – Fullerton Center for Family Business to champion Family Business across Southern California.
David Choi, who leads Loyola's Family Business Entrepreneurship Program, moderated the event which included panelists Alex Cantor – Canter's Deli & Twenty40 Ventures, Jessica Hawthorne-Castro – Hawthorne Advertising, and Kyler Gilbert from Business Consulting Resources. Each of the family business NxtGens shared stories about their family businesses and how they approached difficulties and their own unique challenges.
Alex enlightened the audience with the reality of his family business – Canter's Deli in Hollywood – saying that Christmas is the busiest day of the year for their Jewish deli. On that day, every family member is called in to work, even if they are a second cousin, twice removed – and they do so because their family business is so important to them.
Jessica revealed that she didn't inherit Hawthorne Advertising, an award-winning, full-service agency providing creative, media, strategy, analytics and audience intelligence to their clients. Rather, she bought out her father's ad agency and paid full price. Since then, she has instituted improvements in technology and exceeded the agency's previous business goals.
And finally, Kyler talked about his parents' different motivations regarding whether he should enter the family business. His mother advocated for him to go out and explore his own interests, while his father was adamant that he join the business. Kyler did both: he first explored what he was most interested in, but then a few years later, decided to take an active role in his family's business consulting firm.
One of the most enjoyable parts of the evening was when NxtGens in the audience were asked to pose questions to the panelists. One question was posed about whether two of the three currently were set up to earn equity in their family business, while another question rather pointedly referred to whether they were met with resistance when trying to implement changes in their businesses. One thing was for certain: the attendees bonded over their shared interest in family business.
In explaining his vision for the event, Esrock said, "Our primary objective is to create a community where individuals facing personal and professional challenges within their family businesses can find a supportive network. After speaking with three, appreciative NxtGens after the event, I believe our event was a triumph. The consensus was that they felt that by discussing a variety of issues, we addressed crucial and often overlooked topics that reside beneath the surface of family businesses, often making them difficult to confront."
What was initially a crowd of strangers at the beginning of this event, entering the dealership with no expectations, turned into a group of cohorts happy to have found other Angelinos who share the same hopes, concerns and dreams about their family business.
NxtGen Nexus will continue to create in-person events and on-line webinars to build a more expansive community in 2024.