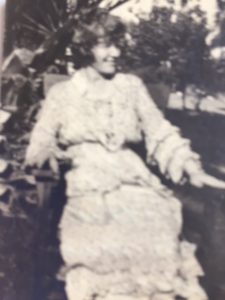 Writing can be such a cathartic experience when looking back on your own life – or in the case of Susan Keys, remembering the life of her grandmother, Julia Vera Keys, an early pioneer on the island of Santa Catalina.
When my close friend, Susan Keys, mentioned that her grandmother was born on Catalina Island in 1900, the journalist and news writer in me instantly came out. I knew this was a story I needed to work on and create – and that's what I did.
Susan's grandmother, Julia, was one of four children born to Alma and Julius Splittsoesser from 1900 – 1910 when Julius was the foreman of the rock quarry operating on Catalina Island, 20 miles off the coast of Southern California. At that time, there were no other children or families living on the northeast end of the island and no schools, hospitals or stores. In fact, few people lived on the island at all during that time period. The Splittsoesser children were, most likely, born at home then homeschooled, living an isolated, subsistence lifestyle with few toys or treats and only each other for company.
As Susan recounted her early memories of her grandmother, I began asking her further questions about her family and more memories came forward. With her stories and additional research I was able to do, with the help of the Catalina Island Museum, I created a short, ten page story that led from one generation to another with a common theme throughout them all.
Everyone has a story to tell – it's just a question of which stories you want to recall and memorialize about yourself and others who have had a profound effect on your life. While many people have interesting stories, it's always sad when they pass on without having shared them with others.
Writing one's memoirs doesn't have to be a long process – it can be done over a few week's time. It also doesn't have to be tedious. When I write stories for others, I ask the questions and they just need to provide me with responses. They can tell me as much or as little as they want. Sometimes, what they don't say is as important as what they do say.
Memoir writing is beneficial to the person whose telling the story as it allows them to reflect on their life and to see how rich a life they've led, even if they haven't achieved all of their goals and dreams. And even if someone is writing their memoir for themselves, and not for a wider audience – it provides time for them to reflect on their accomplishments and to relive happy, loving memories. In Susan's case, we were able to bring not only Julia to life, but Julia's parents, sisters and children through these stories.
As for me, I was pleased to be able to write about the life of this wonderful, young woman, and recognize her as one of the early pioneers on Santa Catalina Island at the turn of the century. There weren't many stories written about women from that time – not like we have today. Stories are ageless and so beneficial to learning where our values come from and who we are, as a result of those who came before us and many are waiting to be told.
For more information, please visit: www.writerpatkramer.com.