We never really know how much we miss someone until they're gone – and the same could be said for the stories they told us. I had a very loving grandmother in my youth, who was the family record-keeper. She knew everyone's story and kept in touch with everyone on a regular basis. When she passed, she took those records with her because no one thought to write them down.
As a writer, I wish I had taken the time back then to ask her questions about her past and to keep a journal of the stories she told me. But I didn't at that time because I was young and those stories didn't have the meaning they do today as I have gotten older, myself, and developed an interest in my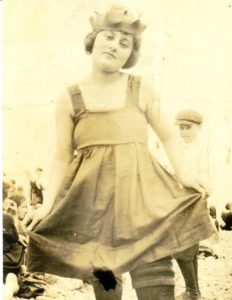 family's heritage.
About five years ago, I started a search for my family's history using online resources like ancestry.com. I also started contacting everyone who had any memories of the older generation of my family and interviewing them for their stories. In the process, I was able to create a memoir of my maternal grandmother's family which included several relatives that I had never met. With their consent and after several phone conversations, we met and are now regularly in touch on Facebook. When I travel back to Massachusetts in three weeks, I will be staying with one of my cousins and meeting her sisters, brothers, children and grandchildren for the first time. They are all interested in hearing my stories about the family we share and I'm just as interested in hearing theirs!
If there is one thing I could impart to those reading my blog, it would be to start interviewing the older generation now. Capture their stories on paper or video and spend the time it takes to create a family memoir. I have gotten so much value out of my own experience of doing this – although it did take about three months and at least five revisions to get everyone's stories included!
Families hold the key to who we are and who our descendants will be. We share a common history with our elders and they have meaningful stories that should not be lost. Whether you want to hear their stories now or record them for later, I can assure you that you will be glad, someday, that you took the time to do this.
I've written five memoirs for seniors so far this year — at the request of their children. Each person wanted to partake in this process and got great meaning out of doing this. I am always happy to assist with this as I have served as a news journalist for many years and interviewed 1,000s of people from all walks of life. Sometimes it's easier for someone to share a painful memory with a stranger than with their family members because it's just too personal. I take the time to listen and I enjoy participating in this process that helps others see the value of a life well lived.