Introduction:
This is the story of my maternal grandmother, Anna Morochnick Kramer, her family – the Morochnicks of Massachusetts – and the values they taught me that stay with me to this day.
This story is the combined result of many months of research on Ancestry.com, phone calls and extensive interviews with members of my family, some who I met while on this journey. With their help, I have sorted out conflicting facts and built a series of stories about each character (yes, they were "characters!") to resurrect our family tree. This is a multi –layered story that includes everyone's perceptions, opinions, thoughts and maybe facts about what life was like – over 100 years ago – when the "original" Morochnicks set foot on Ellis Island. Some started their transcontinental voyage from Russia by foot, horse and buggy or train to the docks in England where they boarded a steamer to America. Others came via China, Israel, Canada and other parts. Together, they built this family and its descendants.
From what I have been able to establish, life back then was incredibly difficult and money was scarce. Yet, the family stayed closer than we do today (even with all our devices to help us do so) based on a mutual love, respect and a genuine interdependency that existed between family members living in close quarters in a strange country that was often hostile to Jews.
My story is just that – my story. It is a compilation of many remembrances of people to whom I am very grateful for their time, willingness to share information, and the desire to have our family's history set down on paper so future generations can know from whence we came.
Chapter 1:
My grandmother's father, Boroch (Barney) Morochnick, was born in the Ukrainian village of Shepatovka, as were five of his seven kids. Barney or "Zeide," as he was known (1877 – July 1956), died a year before I was born. His wife, "Bubbi" or Sarah Ainbender Morochnick, gave him seven kids then died at the age of 66 (1878 – 1944).
Zeide Morochnick came to the U.S. by himself at age 27 on June 11, 1904. It took six years for him to send for his wife and five kids to come to America in 1909. This included my grandmother, Anna Morochnick, who was eight when she arrived at Ellis Island with her mother and four brothers: Abe, Louie, Isaac and Murray. After settling into their first home, an apartment in the old West End of Boston by the Esplanade, they moved into their longtime home at 99 Winthrop Street in Roxbury (now an African-American neighborhood).
Although I never got to meet my great – grandfather, I often heard tales about Zeide Morochnick. We knew that he had two brothers in the U.S., Max (Mottel) and Shia, but he may also have had two sisters, and a brother who was deaf-mute, who stayed behind in Russia. Barney's father (my great, great grandfather) was known as Yankul David (Yankul is English for Jack.) His mother's name was Tabila (Thelma). We believe that Thelma and David never left Russia.
Chapter 2:
MY GREAT GRANDMOTHER, "BUBBI MOROCHNICK"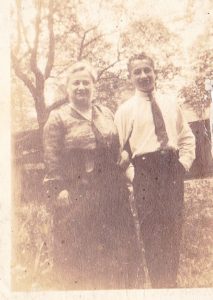 (Photo: Sarah Morochnick with Isaac Morochnick)
Sarah Ainbender Morochnick was born in Beresdiv, Russia. Sarah had two brothers – both named Samuel. One later became known as "Fehter" (Yiddish for uncle) Sucha, a Kosher butcher and cantor in Boston; the other brother was known as Sam Aines. (Sarah may have also had two sisters who stayed in Russia).
Sam Aines was fondly remembered by the Morochnicks as a wonderful man. He married a woman named "Goldie" and they had three sons: (Isador) Joseph Aines, Maurice Aines and (Adolph) Andrew Aines. Andrew, who married Bea and lived in North Springfield, Virginia, was said to have worked for the State Department in some high-ranking position at the Pentagon. Joseph was married to Virginia ("Ginnie") and they lived in Sharon, Massachusetts. Maurice also lived in Sharon but no one seems to remember much about him or his family.
Samuel "Fehter Sucha" Ainbender married Zelda (Celia) Kauffman and settled in Peabody, Massachusetts where they had five kids: Sarah, Abraham, Louis, Sol, and Hyman. During my search on ancestry.com, I met my third cousin, Ellen Zirin, who was Abraham Bender's grandchildren (after shortening his last name).
Ellen provided me with a wealth of information about her family, who we never knew.  She and I have since become friends and actually got to meet in person in 2015 on one of my trips back to Massachusetts.
Her grandfather, Abe Bender, married Frances Abrams and they had three kids – Louise, Ralph and Ann Gail. Louise and her husband, Philip Epstein, were Ellen's parents.
Back to my Great Grandmother Sarah: By all accounts, was not a healthy woman. My 3rd cousin, Sylvia Loman, recalls that she suffered from asthma and as such, everyone was instructed not to smoke around her. My 2nd cousin, Jerry Curley, who grew up in the same house with Bubbi and Zeide, had this memory:
"My grandmother was always leaning against one of those big, black pot-bellied stoves. She would make me fried latkes in the morning and we'd sit and talk, but she was a very sick woman. She had a bad heart, diabetes, and high blood pressure. Bubbi was a very quiet, gentle woman and though full -bodied, she was weak and frail so she spent quite a bit of time in bed. When she was up, for family occasions, I always remember her wearing a housecoat."
Chapter 3: 
SARAH'S BROTHER FEHTER (ISSACHER) SUCHA
Fehter Sucha, the Kosher butcher, was mentioned every now and then by my father, Lester Kramer, and my Uncle Arnie Kramer. They talked about him being a very traditional Eastern European Jew who was kind of scary and shouted in Yiddish when he spoke.
Ellen had similar memories of her Great Grandfather: "He died in 1963 when I was 15, so I have memories of him. He had this big, long white beard and he used to wear a black silk kippah (skull cap). He was scary. I believe he spoke English but not willingly; mostly he spoke Yiddish. When I saw him he was either in his butcher shop or praying. I remember going to their home in Peabody for different Jewish holidays. They lived in very small quarters; their dining table was basically in his bedroom and he was reclining (as you are supposed to do on Passover). I don't believe I ever had a conversation with him but I remember that I disliked it when he kissed me, and to this day, I detest beards because of his."
As for her grandfather, Abraham Bender, Ellen says, "He was bald and he owned a liquor store that my father worked at on Main Street in Peabody. I went in there often and when he came to visit me, he always brought Beechnut gum. He had a beautiful voice but what I remember most about him is that he refused to speak Russian because he left the country under fear of probably being conscripted and he didn't want to recall Russia. He was here in America and he was American; that was it."
Chapter 4:
ZEIDE'S BROTHER: MAX (MOTTEL) MOROCHNICK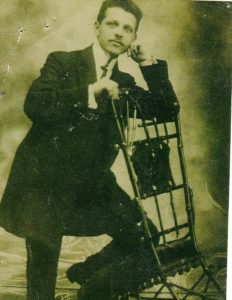 After Zeide arrived in America, he sent for his brother, Mottel, who was known as "Max."  Max eventually married Anna Behm, a Polish Jew, and they had two daughters, Mary and Sylvia. Max's family lived at 57-55 Lucerne Street in Dorchester in a three-story building that housed six families. Sylvia, who is now 89, says her father occasionally spoke with contempt about Shepatovka, the community he was forced to flee due to pogroms, which were quite common in the early 1900's.
"My father was a handsome guy with black hair and blue eyes," says Sylvia, "very typical Russian looking. He was the most gentle soul and of high integrity and moral character. Like many of the Morochnicks, he was a Union housepainter. During the winter he didn't work much, so money was very, very scarce, but I never thought I was poor because we always had food. I do remember, however, that one year, my father told me and my sister Mary to write to Santa Claus for toys – and on Christmas morning, there were toys – this from a man who was a member of the Reform Synagogue!"
Locally, Max was a member of the Shepatovka cemetery keepers. When he died, Sylvia received a telegram from the Independent Sons of Shepatovka acknowledging his loss. Max only lived to be 69. He died of a heart attack in 1958 brought on by years of heavy smoking. Max is buried with the rest of the Morochnicks in West Roxbury beside his mother, father, and brothers: Shia and Barney.
Max's oldest daughter, Mary, married David Berlyn and the two lived in Tarrytown, NY. Mary lived to be 83 after surviving breast cancer for twenty years. Their daughter, Debra, has two daughters, Anna and Katie, while their son Steven lives in Santa Fe, New Mexico. Max's younger daughter, Sylvia, (who was my dad's 3rd cousin) married Mel Loman and had two sons and a daughter. After 55 years of a loving marriage together (including a rededication ceremony for their 50th anniversary), he passed away in 2009. They had two sons, Harold and Lee, and a daughter, Marci. Harold is divorced with a son, Kyle, and a daughter, Taylor. Lee and his wife had two children: Sam and Carly (an Emerson graduate like me!). Their daughter, Marci, married David Cohen and had two children, Douglas and Lauren.
Chapter 5: 
SYLVIA MOROCHNICK LOMAN
 Sylvia Loman is the last remaining Morochnick of that generation. Meeting her has been one of the highlights of my research into my family roots. Sylvia is an active senior citizen who uses Skype and Facebook, as well as email, to keep in touch. We spoke about her memories of my great-grandmother, Bubbi Morochnick, in whose lap she remembers sitting when she was a little girl. She loved her aunt very much for it was she who brought her parents together:
"My grandfather – my mother's father – was a religious Jew and just before my parents first met, he was run down in the streets of Skokie, Illinois by the KKK and killed. After this tragedy, my mother went into mourning – and it was at this time that my father first met her, all dressed in black. My father told his sister-in-law, my Auntie Sarah, that he thought my mother was very pretty but she wasn't interested in going out with him. After about a year, Auntie Sarah told my father to go see her again. Back then there were no phones and it was proper to have someone announce your visit before you arrived. So Auntie Sarah sent her two little girls, Sophie and Jenny, to the house where my mother lived to tell her that their uncle wanted to see her. When he arrived at her house, my mother's heart was beating so fast that it led to a romance that lasted for many years. While they didn't have much money, they were deeply in love."
Her mother, Anna Behm Morochnick, lived to the age of 75. After Max died, her daughter moved her to a senior development in Peabody where she lived for the last five years of her life. Although she was the only Jewish resident there, she was well-loved for her easy going personality.
Sylvia, who was 26 years younger than my Nana, was raised with my father's generation. As a young woman, she wanted to be a cantor but her father discouraged her telling her she would never "wear the robe," so she never pursued her knowledge of Hebrew. However, in her later years, she came back to it and at the age of 85, she completed Hebrew school and got to carry the Torah at her temple. Says Sylvia, "I sang in my temple choir for 20 years but I never learned Hebrew. Learning Hebrew and going to Israel were big turning points in my life."
Sylvia's sister Mary also achieved her educational aspirations later in life, enrolling in college at age 50 where she earned a teaching degree and a Master's degree. She was working toward her Ph.D. when she was diagnosed with breast cancer, but survived to live another twenty years.
Chapter 6:
SHIA, MY GREAT-GRANDFATHER'S MYSTERIOUS BROTHER
Shia, Zeide's brother, came over last to America after his brothers paid for his passage from Israel. The story is that Shia had escaped from a work camp in Siberia. Sylvia Loman recalls Uncle Shia telling her that he had climbed over an electrified fence to escape and didn't know why he hadn't been electrocuted.
After making his way to Shanghai, Shia married and had a son, Alex, who was later killed during a bombing. It's unknown what happened to his wife – whether she also died in that bombing. He later married, Sima, who he met in Israel after making his way there from China. Sima had a son, Abraham, who took on the name Morochnick. (My Cousin Ruthie says Abraham later showed up on the doorstep of Zeide's home, years later).
After arriving in America, Shia worked with Murray Morochnick, painting and providing maintenance services for an apartment complex. Jerry "Curley" Morochnick remembers: "Shia was good friends with Murray; the two worked hand-in-hand together. They were like Laurel and Hardy but they got along well."
Shia lived in the attic of Jerry's family's home at 99 Winthrop Street. While Shia was residing there, his wife Sima was living in Canada waiting to enter the U.S. to join him, but due to immigration restrictions, had to stay there for many years.
Cousin Sylvia remembers Sima as a nice, soft-spoken Russian woman and Shia, as somewhat of a womanizer. "He was not as good looking at my father but he had money. He liked life and he liked women. He was always good to my sister and I and would tell me stories about his servants in Shanghai."
My own memories are few of my Great Uncle Shia. I remember meeting him at my grandfather's funeral when I was eleven and being in awe of him after my dad told me that he had escaped from Siberia. I viewed Shia with great respect and regret that I didn't get to know him better as he was the last of that generation. What I do remember was that one year after Shia died, Sima also died. People told me that she died of a broken heart.
Chapter 7:
CHILDHOOD MEMORIES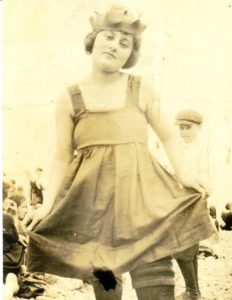 My Dad's mother was Anna Morochnick Kramer and her family were a huge part of my early memories of growing up in a large, extended Jewish family. My "Nana" had several brothers and sisters whose names, my brother Bob and I, used to like to memorize: There was Abie, then Louie, followed by my grandmother Annie, Isaac, Murray, Sophie, and Jenny. Everybody was lovingly referred to with an 'ie' at the end of their name. (This tradition continued with myself, "Patty," and my brother "Bobby," while my sisters Nancy and Julie naturally had the 'right' ending – so it didn't need to be changed).
Friday nights were always spent bringing in the Sabbath with a large dinner at my grandmother's house at 88 Longfellow Road in Worcester, Massachusetts. My grandmother, like many women of her generation, was a fantastic cook of Eastern European culinary delights. Dinners were several courses long and lasted for hours. They always began with matzo ball soup followed by a green salad, chopped liver and crackers, a tray of pickles and other condiments and Challah. The main course was usually roasted chicken or brisket with potatoes, carrots, onions — and my favorite – mach bones! For dessert, there was always jell with canned fruit or baked apples.
How I enjoyed those Friday night dinners when I was a kid! The men would discuss politics, business and the news, while "we" kids would stuff ourselves to the gills then search for the chocolates that my grandparents hid in their polished wooden armoire.
My other beautiful memories were of walking Reggie, their black toy poodle who I loved so much, and of cutting fresh flowers from my Nana's vibrant and aromatic gardens. My grandmother was a very skilled gardener and her gardens were always full of beautiful flowering plants including three, tall lilac trees that rose to the second story of their home outside of my Aunt Ronnie's bedroom windows. The lilacs were lavender, white and purple and their aroma was intoxicating to me as a child.
For Sabbat dinner, my grandfather, Harry Kramer, was always seated at the head of the ta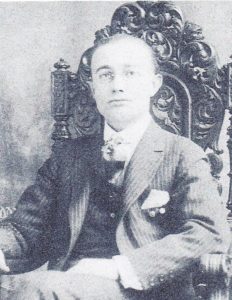 ble with my dad, Lester, and my Uncle Arnie seated on either side of him. My Aunt Ronnie was living in New York (and later, Los Angeles) at that time so we only got to enjoy her presence on special occasions. But I remember that she would call, long distance, all the way from wherever she was and everyone in the family would take turns speaking to her. Back then, it was very expensive to speak to someone long distance so the calls were often abbreviated to "Hello Patty. How are you? Do you like school? Okay let me speak to your Dad now."
My "Papa," Harry Kramer, was only in my life until I was eleven but my memories of him are large and well established in my memory. He had a great sense of humor and spoke with a Russian accent. He was kind to me, loving and protective & I loved him like I loved no one else.
Chapter 8:
FAMILY VISITS
When the entire Morochnick clan was present, my grandmother's home really came to life. It was noisy, the men were smoking cigars or pipes, the women were sharing stories in the kitchen, and Aunt Ida was usually playing the piano and singing. Those memories of family gatherings are most precious to me.
My grandmother, Anna, was very family-oriented. Everyone who knew her always mentioned how she would keep in touch by phone and by mail with everyone, never forgetting birthdays or anniversaries. She really valued the family bonds and instilled those same values in all of us.
At any family gatherings there were always a lot of people in the house. As kids, we weren't all that interested in talking to the adults, so we would sneak away on an exploratory trip to the attic, which was only accessible from my Uncle Arnie's bedroom. It was dusty with creaky floorboards but contained real 'gems' from WW2 (his Army uniform and various weapons). It was definitely a great place to hide out and let our imagination run wild!
The other great playroom was my grandparents' cellar which contained a large family
room with a full bar, an antique telephone that hung on the wall and high, red barstools. Often, we kids would play 'bartender' and pretend to be mixing drinks for each other – although I don't think we actually opened any of the bottles.
Besides the main room (or rumpus room, as my grandmother called it), was the room that contained the furnace, which was dark and scary. I only went in there when we were playing 'Hide and Seek' and then only for a short period of time as I believed my brother's tales that it contained ghosts or demons and that they were going to 'get me' if I went in there alone.
The final room in the basement was the laundry room, which was the ending point for a chute that started on the second floor of the house, directing dirty laundry down to the basement where it landed in a cart by the washing machine. This made for a great play-tool for my brother, sister and I. Often, one of us would run upstairs and stick our head in the chute and the others would wait down below to see if we could see them. We also would toss items down the chute on whomever was waiting below, not suspecting that the balled up toilet paper was coming their way until it hit them square in the face!
My Cousin Steve Morochnick Curley recalled: "The house at 99 Longfellow Road with curling steps that led to the attic was filled with Arnold and Lester's comic book collections. They had tons of funny books and we could sit and read for a long time!"
He adds, "You're grandmother was a great cook and Sunday in Worcester was a great treat for all the Mishpocha from Boston, cause we knew we would get great food and desserts.  And Uncle Harry was the best joke teller (sometimes even a little racy with spicy Russian words)."
This story continues for about another 20 pages, but because it is about living people's personal information, I will end this story here, as this is just an example of the type of family histories I create as a writer.