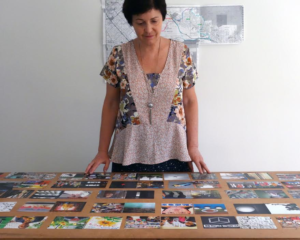 By Pat KRAMER
A unique four-part workshop aimed at creating a "living history" for Sunland-Tujunga will be introduced by Bolton Hall Historical Society Artist-in-Residence Bia Gayotto on Thursday, Sept. 8 from 4:30 p.m. to 6 p.m. There will be four interdisciplinary workshops combining performance, art, community participation and documentation in an effort to create a living archive and map of the Rancho Tujunga area and the surrounding areas of Shadow Hills, Sun Valley and Lakeview Terrace.
For the purpose of accuracy, the artists are seeking participants who can offer a variety of ethnic experiences, both past and present, for this multigenerational project. Additional workshops take place on Sept. 15, 22, and 29 with each running 90 minutes starting at 4:30 p.m. There will also be a wrap party on Oct. 16. Through word of mouth, the artist hopes to build a network of community members, artists and volunteers who contribute to the overall project.
Gayotto, a native of Brazil, was awarded the grant for this project by the City of Los Angeles Dept. of Cultural Affairs. Since 2003, she has created collaborative projects that have engaged residents all over the world. These include projects for AIR Taipei, Taiwan; Banff Centre, Canada; Montalvo Arts Center, Saratoga, California,  "Threewalls" in Chicago, Illinois; and a video series at Los Angeles International Airport called "Somewhere in Between" that was made possible with the support of DCA.
"Somewhere In Between" documents how people navigate between two or more places and cultures. To capture the diversity of Los Angeles, the artist conducted interviews with 14 residents who live along the iconic Route 66 connecting Pasadena to Santa Monica, and who identified as belonging to two or more places or cultures. The map documenting that event was made by designer Juju Yeo who will also be collaborating with Gayotto as part of the Story Map series at Bolton Hall Museum.
"My goal," said Gayotto, "is to create a multi-layered portrait of the area using methodologies that involve engagement through stories and shared histories. It is part of my process to place 'open calls' inviting community members to participate in my projects. This promotes a multifaceted collective experience which often helps people feel connected to each other and, as a result, can be more accepting of cultures different from their own.
"Rather than being at the center, I see myself as a catalyst creating an environment in which people come together to participate in a shared activity."
Anyone interested in participating in one or more of Gayotto's living history workshops is asked to bring historical photographs or objects that they are willing to donate to the Bolton Hall archives to illustrate their contribution to the story. Bolton Hall Museum is located at 10110 Commerce Ave. in Tujunga. There is no cost to attend the workshop and everyone, ages 13 and up, is welcome. For more information, email biagayotto@gmail.com or visit: http://www.biagayotto.com.
You can also read my feature story in the Crescenta Valley Weekly:  http://www.crescentavalleyweekly.com/news/09/01/2016/story-map-living-history-event-takes-place-bolton-hall-museum